Ultrasonic Rhinoplasty - Piezo rhinoplasty in Montreal
If you're considering rhinoplasty, or nose surgery, to improve the appearance or function of your nose, you may be interested in learning about an innovative alternative to traditional surgical methods: ultrasonic rhinoplasty. This procedure utilizes advanced ultrasonic technology to reshape the nasal bones, cartilage, and skin with less invasiveness, discomfort, and bruising than traditional rhinoplasty methods. With ultrasonic rhinoplasty, plastic surgeons can precisely manipulate the nasal structures, create desirable contours, and remove a dorsal hump without causing damage to surrounding soft tissue.
Would you like to learn more about Ultrasonic Rhinoplasty? Don't hesitate to book a consultation with Dr. Sami Moubayed!
The Piezo Ultrasonic Rhinoplasty is the future of rhinoplasty surgery. This facial plastic procedure is a significant advance in custom nose surgery.
After years of development, the Piezo-powered Ultrasonic Rhinoplasty is now available in Montreal and only offered by a few clinics in all of Canada.
What is ultrasonic rhinoplasty?
In an alternative to traditional rhinoplasty, called ultrasonic rhinoplasty, the nasal bones and cartilage are sculpted and reshaped using ultrasonic instrumentation, specifically the Piezosurgery device. Compared to conventional rhinoplasty methods that use chisels and hammers and other traditional instruments, it is a less invasive procedure. The procedure aims to remove nasal humps and correct nasal asymmetries, bumps, or to improve nasal passage and nasal pyramid. Additionally, the procedure can be done as an open or closed rhinoplasty.
Book a consultation with the first surgeon to bring ultrasonic rhinoplasty to Quebec




What are the potential benefits of ultrasonic rhinoplasty?
The main benefits of ultrasonic rhinoplasty are to reshape the nose and nasal bone, bringing it in harmony with the rest of the face, all by minimizing soft tissue injury, and as a consequence, bruising and swelling. A priority for Dr. Sami Moubayed is to preserve a natural and non-operated appearance as well as maintaining the ethnic aspect of each nose.
In structural cases, ultrasonic rhinoplasty is an ideal choice as it allows for more precise filing/rasping of the hump and the smoothing of the bones without causing injury to the soft tissues.
Ultrasound waves enable true molding and sculpting of the nasal bones, instead of just filing and breaking them. This sculpting power allows us to change convexities along the bridge and create desired contours more accurately.
Reduced pain and discomfort
The utilization of ultrasonic waves results in a less invasive procedure, leading to less post-operative pain and discomfort.
By utilizing the ultrasonic device (Piezotome), the bones can be cut with the highest precision under direct vision, as opposed to breaking the bones using chisels and hammers as done by many surgeons in the US currently.
The precision of the ultrasonic technique leads to less trauma to surrounding tissue, resulting in a faster recovery period and an easier healing process.
The use of ultrasonic rhinoplasty leads to less swelling in open structural cases as it causes less tissue trauma. To achieve optimal results, it is important to be a good candidate for the procedure.
Some patients have breathing or sinus problems that need to be identified before an ultrasonic rhinoplasty. Dr. Moubayed always performs a complete evaluation in these cases.
What steps are involved in the ultrasonic rhinoplasty procedure?
Small incisions will be made at the base of the nose or inside the nostrils during an ultrasonic rhinoplasty. The nasal bones and cartilage are then painstakingly sculpted into the desired shape by means of high-frequency vibrations produced by the Piezosurgery device. Depending on the circumstances and the patient's preferences, the procedure may be carried out with or without the use of general anesthesia.
Choosing a board-certified plastic surgeon with experience in ultrasonic rhinoplasty is the first step if you're thinking about having the procedure done. You can discuss your objectives, desired results, and any worries you may have during the consultation. In order to decide if you are a good candidate for the procedure, your rhinoplasty surgeon will evaluate your general health as well as the structure of your nose.

You will be given instructions on how to get ready, including any necessary pre-operative measures like skipping certain medications, on the day of your ultrasonic rhinoplasty. The procedure will be carried out in a surgical setting, and general anesthesia might be used.

You will need to allow your body to heal and rest after the procedure. You'll receive detailed instructions from your surgeon on how to look after your nose and deal with any discomfort you might feel. Most people can resume their regular activities in a week or two, but up until then you should refrain from any strenuous activities.
How do I prepare myself for a consultation?
First, prepare to list in order of importance the elements you would like to improve in your nose (bridge, tip, nostrils, among others).
Second, you can bring with you photos of elegant noses according to you.
Third, if you suffer from a breathing problem, be ready to talk about it. If you have undergone a CT scan of your sinuses, bring your CD with you to look at it with Dr. Moubayed. If you have had allergy testing, bring your results with you. If you had a sleep study, bring those results with you as well.
Finally, if you have had cosmetic soft tissue fillers to the nose, try to find out which products were injected and when. If you have already had nasal surgery, try to bring with you the operative report of your prior procedure if this is possible.


Ultrasonic Rhinoplasty Gallery
Warning: These photos are published as an indication to provide information on the nature of the intervention. They do not constitute a guarantee of results.
Source: Clinique Face MD.


How long does ultrasonic rhinoplasty take to execute in Montreal?
Rhinoplasty is a surgery of finesse and precision. When practiced using modern techniques that maximize control, it usually lasts between one and three hours.
Dr. Moubayed lecturing on rhinoplasty techniques to a group of colleagues and students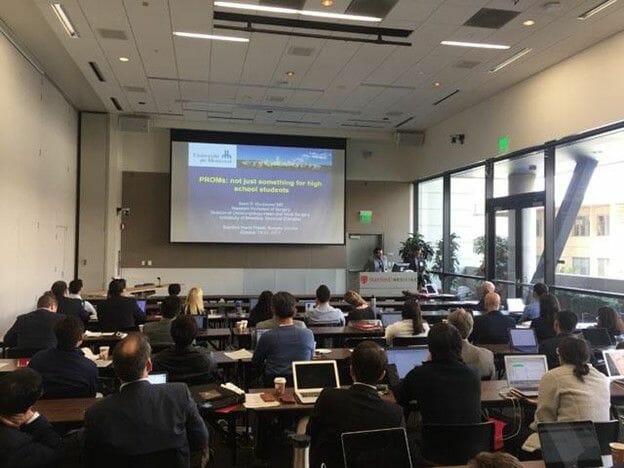 Source: Stanford Nasal Plastic Surgery Course 2018
Dr. Moubayed with world-renowned
Dr. Sam Most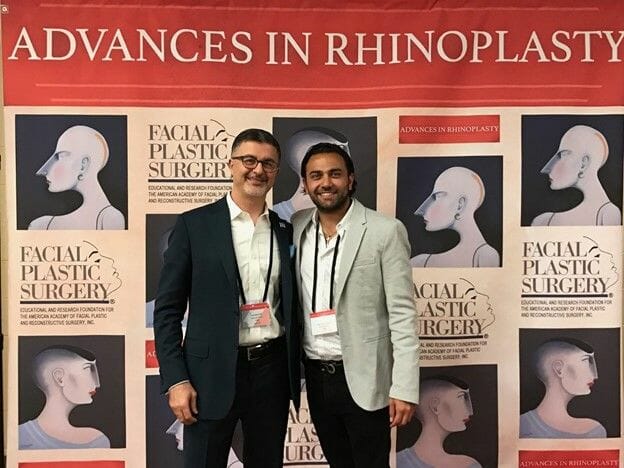 Source: Advances in Rhinoplasty Course, Chicago 2018
Get the look that you've always wanted
Facial features are what makes each of us unique, and enhancing the appearance of facial features can have a significant effect on self-esteem. Over the counter facial products and makeup provide temporary results, but our procedures offer more durable and dramatic results. Our goal is to identify each patients' facial aesthetic potential and optimize it.
Clinique Face MD is an aesthetic medical center that specializes in cosmetic enhancement procedures for the face and neck. With our offering of injections, surgery, and state-of-the-art technologies, we are the only clinic in Quebec that provides such a complete service offering dedicated exclusively to aesthetic enhancement of the face and neck.
Our team of facial specialists – overseen by the highly decorated head and neck specialist Dr. Sami Moubayed – are able to improve facial features and help you maximize your aesthetic potential.
We use safe and effective treatment methods using the latest technology – with results that will not only enhance your appearance – but make you feel proud and confident with how you look.
For long lasting, safe and evidence based facial enhancement procedures, go with a name that many other Canadians trust. Trust your face to Face MD!
Check out our other nose surgery procedures:
Preparing for Rhinoplasty or Nose Surgery
Fill all prescriptions as prescribed by your surgeon prior to the surgery to ensure proper post-surgical care.

It is important to stock your fridge with easy-to-digest foods that will be easy on the stomach in the days following your surgery.

A batch of laundry, especially your sheets, should be done before your surgery as you will most likely be bedridden for a number of days following the surgery.

Stock up on button-down tops that can be easily put on and taken off to reduce the risk of damaging your nose during recovery.

To ensure proper hydration and overall well-being, it is crucial to drink a lot of water before and after your surgery.

A shower the night before your surgery is recommended to remove all makeup and skincare products.

Trim or wax your nose hair to minimize the risk of infection.

Stock up on lip balm or petroleum jelly as your lips may become extremely dry after surgery, especially with the use of nasal splints.

It is recommended to have someone drive you to your surgery appointment and not eat or drink anything after midnight the day before your operation.
Preparing for Ultrasonic Rhinoplasty (or piezo rhinoplasty) and why it might suit you best:
Similar preparation steps as traditional rhinoplasty using more conventional instruments apply, with the added consideration of the cost of this newer surgical technique known as ultrasonic rhinoplasty.
Ultrasonic rhinoplasty uses the latest surgical techniques and ultrasonic instruments to reshape the nasal bones, cartilage, and even the entire nasal skeleton with precision, making it a popular choice for correcting issues such as nasal bumps, a crooked nasal septum, or a dorsal hump on the nasal bridge.
This method can also be used to remove excess nasal bone, leading to a faster recovery period compared to traditional nose jobs.
Ideal candidates for ultrasonic rhinoplasty include those seeking to address cosmetic concerns such as a dorsal hump, a crooked nasal septum, or a deviated nasal skeleton. Photographic analysis and consultations will be used to determine if you are a suitable candidate for this procedure
Regardless of the surgical technique chosen, it is important to understand the recovery period and any potential complications that may occur. People who are considering cosmetic surgery should keep in mind that the results of rhinoplasty can vary depending on the individual's facial structure and skin type.


Frequently Asked Questions



Reviews of Our Montreal
Facial Surgery & Cosmetic Clinic

Service impeccable et à l'écoute de nos besoins.
Maxx W.
8/18/2021

My only regret is not meeting Dr Moubayed sooner ????????
Hala C.
8/12/2021

This place is incredible. The people, the service, the all around experience. I wouldn't trust anyone else with my face!
Melyssa B.
8/12/2021

J'ai eu une Septorhinoplastie effectué avec brio par Dr. Moubayed.Le résultat est parfait et selon mes attentes, le personnel est très gentil et attentionné. Je vous recommande la clinique Face MD sans hésiter.Merci à toute l'équipe.
Steve C.
8/19/2021
Magnifique clinique ! Très bon personnelle les receptionnistes ,infirmieres et le medecin Dr.Moubayed forme une excellente équipe. A l'écoute de leur clientèle. Si vous desirez confier votre visage a un bon medecin je conseille Dr. Moubayed il est tres gentil, il exerce tres bien son metier, rassurant, a lecoute de vos attentes.Il ma fait une bichectomie et une lipposuccion du cou et du menton, les resultats sont incroyables ,aucune cicatrices, bonne guerison, pas de douleur ! Jadore
Louis C.
8/18/2021

J'ai pensé longtemps à une blépharoplastie mais j'avais beaucoup de crainte et me demandais à qui faire confiance. Après avoir lu sur le profil professionnel de Dr Moubayed, je me suis dit que c'était lui que je choisirais sans aucun doute. Suite une ma première rencontre, je me suis sentie en confiance et très rassurée. Tout s'est passé à merveille! Merci à vous et votre équipe, vous êtes comme une famille tellement on se sent bien traité. Dr. Moubayed vous êtes un vrai magicien et vous avez une super équipe dans un merveilleux local en plus!!
Line R.
8/18/2021